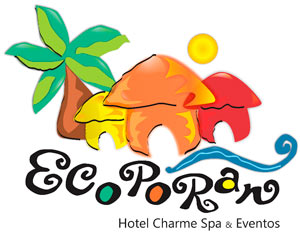 ABOUT ITACARÉ

How to get there | History | Culture and folklore | Night life | Gastronomy | Beaches | Tropical forest | Environmentally Protected Area | Contas River | Taboquinhas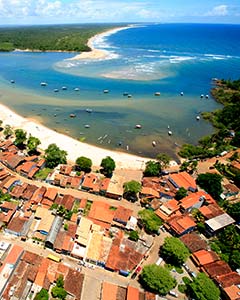 Itacaré is a small town located on the south coast of Bahia state, just 150 miles from Salvador. 🡢

At first encounter, it may seem like many other small coastal towns but dig deeper and you'll find a multi-layered microcosm of everything that makes this world a beautiful place. White sand beaches, pure, un-adulterated nature, gorgeous people, delectable food, tranquility, and most importantly, sunshine and awesome waves.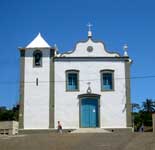 Whether body surfing in the warm ocean water, riding a barrel, or practicing yoga on the beach, Itacaré attracts adventure seekers, eco-enthusiasts and urban dwellers alike.
Stop by the artisans and independent boutiques to dine at the various eateries serving local and international cuisine. After dinner and before dessert, stop by the "Jungle" to gawk at the native Capoeiristas. Visit one of the many bars to have a cocktail named after the devil and dance with people from all over the world on the cobble-stoned streets.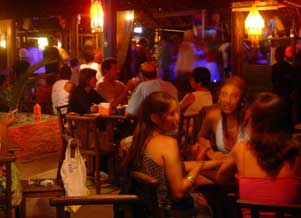 Itacaré is animated during the day and veers into over drive after midnight. But don't party too hard Friday night; every Saturday morning, there's a street market that shouldn't be missed.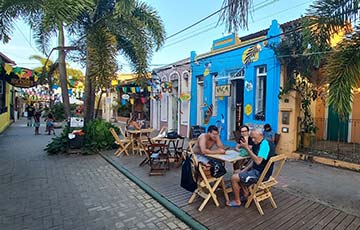 Itacaré is divided into eight different neighborhoods: Porto de Trás, Marimbondo, Passagem, Centro, São Miguel, Pituba, Concha, Bairro Novo; each of them offering something for everyone and many smiles to greet you along the way.
FEATURES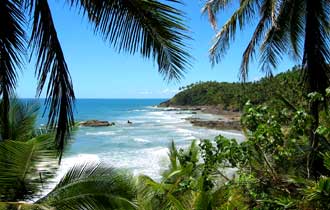 Itacaré belongs to what is called the "Cocoa Coast", bordering the municipalities of Maraú, Aurelino Leal, Ubaitaba, Uruçuca, Ilhéus and the Atlantic Ocean. It is inside the tropical zone, with an average temperature of 27º C (80º F). It has an area of approximately 732 km² (457.5 sq. miles) and it's most important geographical landmark is the Contas River.
Until very recently, Itacaré's history and livelihood was intimately connected to the production of cocoa, but after the decline of the cocoa industry the town started focusing on Eco Adventure and tourism.
Itacaré has about 27,000 residents. Out of these, approximately 50% live in the rural interior. A mixture of races - Indian, black and white - can be seen in the features of the natives, called "nação grapiúna", who Jorge Amado affectionately referred to as "the captivating people of this land".
ITACARÉ