CULTURE AND FOLKLORE
Itacaré keeps the cultural traditions of Bahia alive. A variety of folklore festivals regularly liven up the town's streets.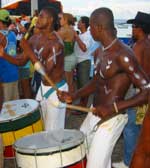 They are not put on especially for tourists. The festivals are organized by the people of Itacaré for the people of Itacaré.
The cultural roots and folklore in Bahia, in general, are intimately linked to black culture brought to this country by (African) slaves. In this sense, we have two great contributions of African origin: Capoeira and Candomblé.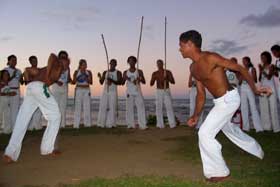 CAPOEIRA (AFRO-BRAZILIAN MARTIAL ARTS)
A mixture of martial arts and dance, capoeira is a pure expression of Afro-Brazilian culture.
There are three capoeira groups in Itacaré: Tribo Unida, Filhos de Zumbi and Tribo do Porto. All of them practise "regional" capoeira and organize daily training frequented by many children and young people. Their training sessions are open to visitors, and classes are also offered.
CANDOMBLÉ (AFRO-BRAZILIAN SPIRITUALISM)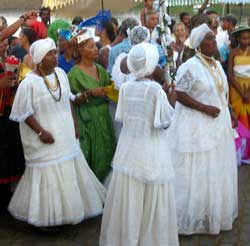 Friday is the day of "white" in Bahia. That's right, followers or Candomblé or not, it's now become a tradition to wear white on Fridays in reverence to Oxalá who, in syncretism (the blending of religions), represents Jesus Christ. Independent of race or social class, this, and other customs brought by African religion are already incorporated into the day-to-day life of Bahians.
Candomblé is an ancient cult whose purpose is the adoration of the Orixás, considered "spirits of nature" derived from the 4 elements; earth, fire, water and air.

In early colonial times Candomblé rituals were practised in the slaves' quarters or in outdoor clearings on the plantations where the African slaves and their descendants worked. The oldest terreiro (outdoor place where Candomblé is practised) in Bahia is known as Engenho Velho (Old Ingenuity) or Casa Branca (White House) and it has been active for more than 450 years, in the city of Salvador.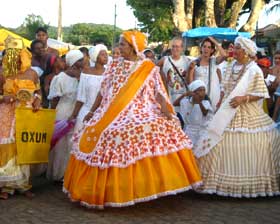 Each Orixá has its corresponding figure in the Catholic Church with its own characteristics, such as: day of the week, colors, clothes, salutations and foods. Sunday is the day of all Orixás. Once identified, the follower prays to him (or her) asking for protection, health and above all, peace.
Exú - Messenger between humans and Orixás. Monday. Red.
Ogum - Opens paths. Tuesday. Dark blue. St. Anthony.
Oxumaré - Link between heaven and earth. Tuesday. Green and yellow.
Xangô - Represented by a double-edged axe with wings. Wednesday. Red and white. St. Jerome.
Iansã - God of wind and storm. Wednesday. Red. St. Barbara.
Oxóssi - Green and blue. Wednesday.
Logun Edé - God of forests, prefers to live in the wild, a hunter. Wednesday. Blue and green. St. Michael.
Oxum - Goddess of thunder and lightning, beauty and elegance. Saturday. Yellow and gold.
Obá - Wednesday. White and red. St. Joan of Arc.
Omolú - Monday. Red and black. St. Lazarus.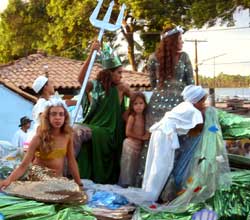 Nanã (Nãnãn Buroko) - Oldest of the dieties of water. Tuesday. White and blue. St. Anne.
Loko - God of the forests and streets, protector of the poor. Tuesday. White. St. Francis.
Ossain - Divinity of medicinal plants, doctor of Candomblé. Plants have a predominant role in the mystique of Candomblé: the plants are used in medicinal baths and Ossain is present at all ceremonies. Monday. Red and blue. St. Benedict.
Oxalá - God of creation. Supreme diety represented by Our Lord of Bonfim (Christ). Friday. White. Also know as Oxalufã and Oxaguian.
Iemanjá - also know as Janaína, Siren of the Sea, Danda Lunda, Queen of the Waters. Saturday. Light pink and light blue.
Ifá - God of prophecy. It is he who consults the owner of the "terreiro" and says who he has chosen as a substitute saint. Thursday. White. Holiest Sacrament.
In Itacaré some popular festivals are intimately connected with Candomblé. Such is the case with the Festival of Waters which has taken place every year since 1959 on the 2nd of February - also the day of Iemanjá.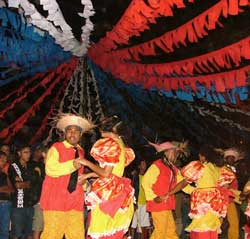 FESTIVALS OF JUNE
The Festivals of June are made up of folklore traditions and cultural gatherings that are very strong in Itacaré, as in all of the north and northeast of Brazil. This tradition originates in the remote country-side of Northern Brazil and it takes place during the start of summer and consequently, the harvests. Since pagan times this date has been commemorated with bonfires, dance, music and a lot of food.
Not until the 6th century did the Catholic church join in the celebrations with St. John's Day. In the 13th century the Portuguese included St. Peter and St. Anthony in the festivities. In Brazil the Festivals of June have been commemorated since 1583.
In Itacaré, during the entire month of June, there is a festive atmosphere in the air. Each neighborhood organizes and constructs its "arraiá" - a small ballroom made from bamboo and covered with coconut palms - where they dance a lot of forró (folk dance) and sample an array of delicacies such as genipapo (berry) liqueur, hominy, munguzá and many others.
Colorful little flags border everything, decorating the streets. The traditional costumes are made of bright floral-printed fabrics, designed for the square dance - originally a French dance called the "quadrille". Treat yourself to one of the most delightful festivals of the year; don´t miss your chance to participate in Itacaré's Festivals of June.
Check the calendar of Folklore festivals in the Events Agenda of Itacaré.