THE HISTORY OF ITACARÉ
Itacaré used to be a small Indian settlement that survived on hunting, fishing and subsistence farming. Portuguese colonization began in1530, with the introduction of "patrimonial commissions" and they controlled their colony through family inheritance.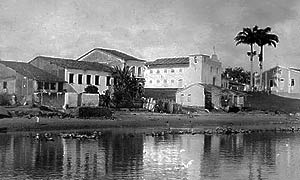 The Portuguese brought with them the Jesuits, who had as one of their objectives the demarcation of the land. In 1720 the Jesuit Luis da Grã erected a chapel under the protection of Saint Michael, baptizing the village as São Miguel da Barra do Rio de Contas. The village then become a municipality in 1732 through the work and goodwill of the Countess of Resende, Dona Maria Athaíde e Castro. This Countess was the proprietress of the patrimonial commission of Ilhéus, and it was on January 26th that Itacaré was elevated to the status of municipality.
The most important historical monuments of Itacaré are the original church (1723) and the Jesuit's house. The oldest accounts say that during this period of colonization, the Indians living here (the Guerén and Tupiniquin tribes) constantly attacked Itacaré's residents and Jesuits. Because of this the Jesuit fathers decided to build a tunnel connecting the church to their house, where they could escape persecution.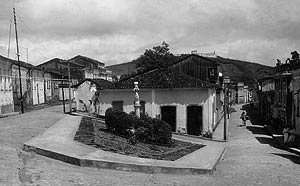 The first municipal mayor (Intendente as he was called) was Joaquim Vieira dos Santos, who governed between 1890 and 1893.
The economic base, not only in Itacaré but in all of the regions of Southern Bahia, was the production of cocoa. Itacaré's port was one of the principal outlets for agricultural production in the state of Bahia, and for many decades the great barons of cocoaproduced all the wealth and dictated all the rules in this region.
In the mid 1970´s when the plague vassoura de bruxa ("witches broom") arrived and attacked the cocoa plantations, we begin to see the decline and impoverishment of the whole region. Neverthelessthe people from this region are determined and resilient. While attempts to develop new techniques to exterminate and prevent the plague continued, people started to get a glimpse of a new course of development: tourism. Surfing was the first great attraction, and it was these surfers, the first tourists, who discovered some of the most beautiful beaches in the country, many of them unknown to outsiders due to their difficult accessibility.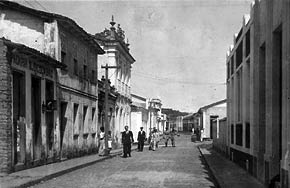 In 1998 the state government completed highway BA-001, connecting Ilhéus and Itacaré. And so with Itacaré's exceptional natural beauty and new easy access, each year more and more visitors arrive here to see up close exactly what it is that makes this little piece of Bahia so special.
WHY " ITACARÉ " ?
The meaning of the word Itacaré still causes some doubt. Some say it's "Round Stone"; others say it's "Pretty Stone". Research wascarried out recently in conjunction with the Federal University of Bahia's Central Library. The result of this study says that the word Itacaré comes from: itacá (noisy river) and ré (different). Therefore, Itacaré would mean "river of a different noise".