Coroinha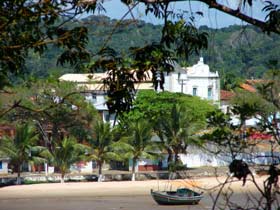 [or Coroa]
Urban beach with dark sand in the center of Itacaré. Not recommended for swimming.
Mooring the old boats that carried coco, now fishing boats, Coroinha is not a swimming beach. Local people use it as a fishing port and for soccer and volleyball on the beach.
This beach is the center of the nightlife in Itacaré. There are many bars and restaurants, and sometimes capoeira presentations and live music.

On Avenida Antonio Athanásio dos Santos, along the beach, you'll find:
• Hotels and Lodges
• Bars and Restaurants