ECO ADVENTURE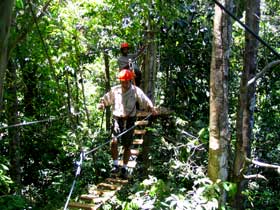 The region that includes Itacaré, Serra Grande and the Maraú Peninsula constitutes a perfect setting for Adventure Tourism. Very few other places in the world offer such a diverse array of attractions in such a small area. Nature has been extremely generous here.
With the combination of rainforest, rivers, waterfalls, mangroves and beaches, it's easy to imagine the amount of activities that are on offer here; from a simple swim in the translucent ocean waters, a relaxing canoe ride along the Contas River, to extreme sports such as white-water rafting and paragliding!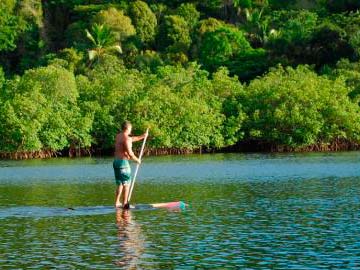 NATURE AND ADRENALINE
The surf was the first great attraction of Itacaré. It was the surfers who were the first to discover some of the most beautiful beaches in the country, hidden due to their difficult accessibility.
Since 1998, when the asphalt highway was opened connecting Ilhéus and Itacaré, more Adventure activities have been practised in this region: rafting, canyoning, mountain biking, kayaking, paragliding, tubing, horse riding, off-road adventure...
Today it's possible to take part in a range of different adrenaline activities with the support of specialized guides. Local tour operators offer a great range of activities.

TRAILS AND WATERFALLS
Most trails traverse through Atlantic Rainforest, passing by waterfalls, cascades and virgin beaches. These trails are ideal for trekking and mountain biking.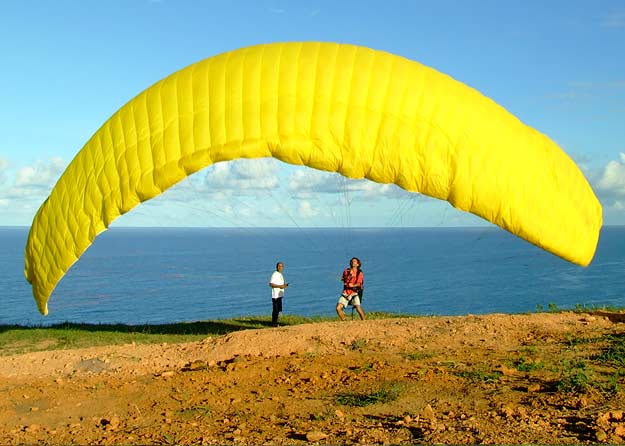 The tall trees of the Atlantic Rainforest are perfect for the practise of arvorismo, otherwise known as 'canopy tour', a tour that takes you through the rainforest canopy by interconnected suspended trails and ziplines.
In Itacaré and Serra Grande ecological trails have been created so that everyone has the chance to get acquainted with the Atlantic Rainforest riches. Some of them were developed by the Floresta Viva Program, which brings sustainable economic alternatives to the small agricultural producers, part of the Protected Environmental Area (APA) of Itacaré - Serra Grande.
The arrival of Eco Tourism and Adventure Tourism is important for the sustainable growth of Itacaré.
Eco Tourism encourages the responsible use of natural resources, respect for cultural traditions, conservation of nature, generation of local income and the general improvement in quality of life for the local community.