ATLANTIC RAINFOREST
Besides having more than 20 beaches, Itacaré has rivers, waterfalls and a huge Atlantic Rainforest reserve. The harmonic mix of forests with waterfalls and beaches is one of the most beautiful and exotic examples to be seen in all of Brazil.
The southern region of Bahia, or more specifically the coastline between the Jequitinhonha and Contas Rivers, preserves the most significant section of Atlantic Rainforest in Brazil's northeast. The forests of this region are characterized by tall trees with consistently green leaves and an abundance of epiphytes. Here you'll find species threatened with extinction such as the yellow-breasted tree monkey and the ring-necked sloth.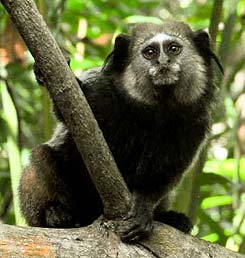 The Atlantic Rainforest is considered by the world's scientific community as one of the richest combined ecosystems in terms of it's diversity of animals and plants species in the world. It is also considered the second most likely to be threatened with extinction. Because of this, in 1991 UNESCO elevated the Atlantic Rainforest to the category of Biosphere Reserve and today it is one of the three major conservation priorities in the world.

PARKS AND RESERVES
The principal conservation areas in this region are the APA of Itacaré - Serra Grande and Serra do Conduru State Park.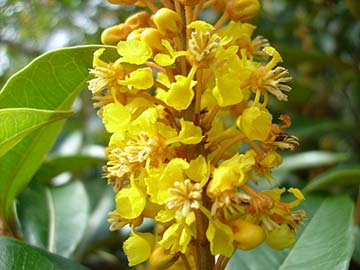 The Area of Environmental Protection APA of Itacaré - Serra Grande is considered a "Heritage of Humanity". Its limits are marked in the north by the mouth of the Contas River, in the south by Sargi Creek and in the east by the Atlantic Ocean; with an area of approximately 16,000 hectares (40,000 acres)comprised of rich fauna and flora.
The Serra do Conduru State Park has an area of approximately 9,000 hectares (22,000 acres). It still has well preserved sections of the Atlantic Rainforest.A survey performed here by botanists from the New York Botanical Gardens identified 456 different vegetal species in a single hectare (2.47 acres) - a world record.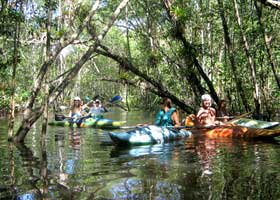 WALKING THROUGH FORESTS AND RIVERS
The main tourist attraction of Itacaré is nature itself. There is no shortage of attractions for those who enjoy nature; listening to birds, walking through rainforests, diving into the ocean, rivers and natural pools.
Contas River (Rio de Contas) enchants those who venture upstream by canoe or boat. At sunset the waters reflect the colors that contrast with the living green of the forest, reminiscent of a classic oil painting. The canoe trip that passes through mangroves and canals before arriving to the waterfalls is an unforgettable trip.